Apply Now for 2019-20 Shomrim Programs
Teens play a unique role in community as intermediaries between kids and adults. While still in touch with the magic of childhood, they are beginning to live responsibly and compassionately within community. Wilderness Torah honors teens because of their ability to relate to, connect with, and tend to the multigenerational village. We call them shomrim (guardians) because of their unique life stage in which they are learning to guard the fire of the village, literally and metaphorically.
NEW this year! Wilderness Torah is offering the opportunity for teens to join an unforgettable and immersive wilderness rite-of-passage: The Neshama Quest. Adult mentors and teens will hike together into the California backcountry for a 5-day journey that infuses wilderness skills, Jewish tradition, vibrant community and ritual. Dates are July 29th – August 2nd, 2019.
In addition to the new Neshama Quest, there are lots of ways for teens to connect at Wilderness Torah:
Teens are invited to apply as Teen Apprentice Mentors where

where they can support our B'hootz and B'naiture programs. Teen Apprentice Mentors play a crucial role in bridging the gap between child and adult.

Shomrim Spring Gatherings give teens the opportunity to participate in ongoing programs held by adult mentors. These gatherings are also connected to the B'naiture Spring Camping Trip, which teens may join as role models and village fire keepers.
Our Festival Teen Program gives teens a chance to experience Wilderness Torah's signature immersive, intergenerational programming while at Passover in the Desert.
For clarification on eligibility for various options or to discuss any of this further, please contact us.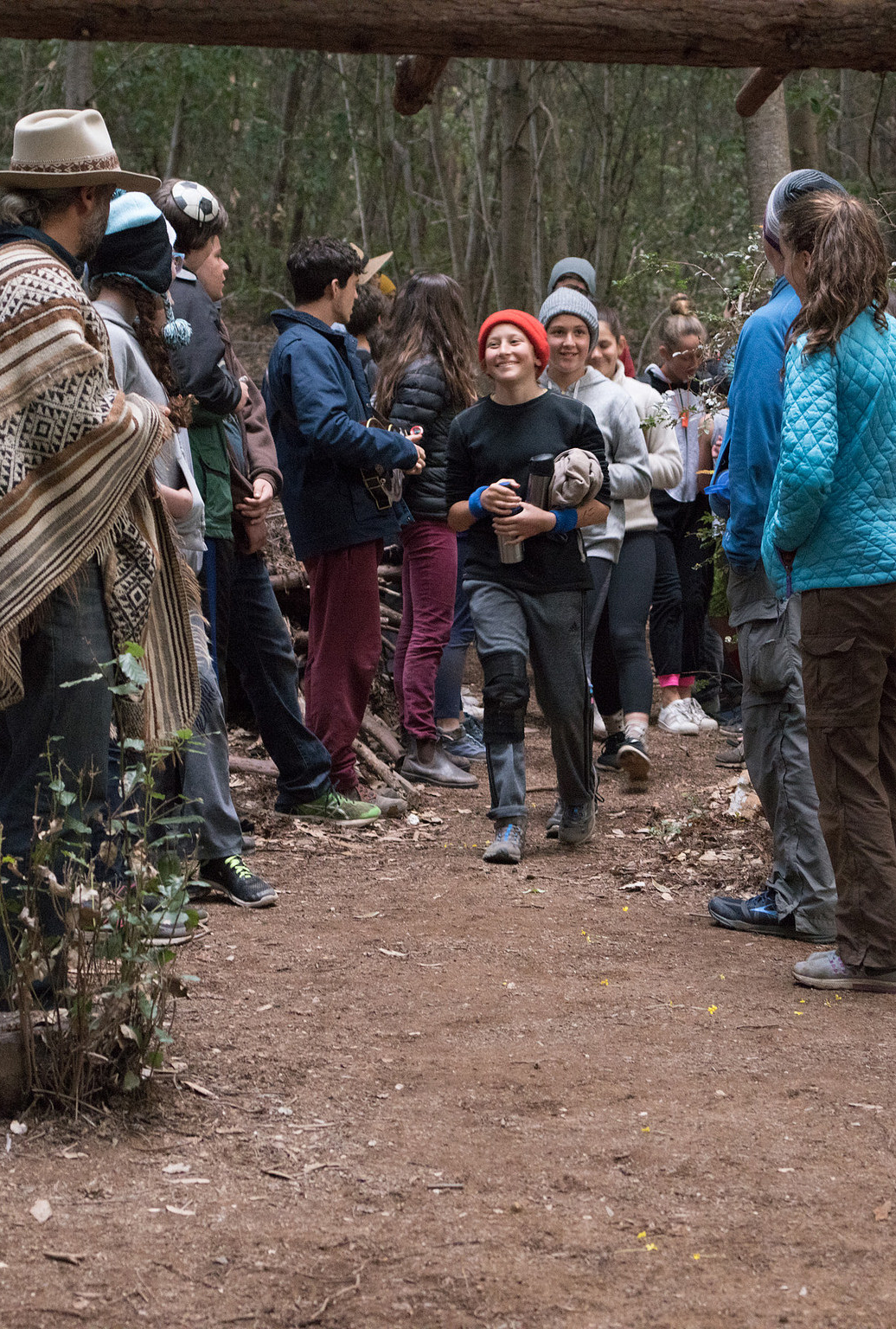 New This Year: Neshama Quest
One of the oldest Jewish traditions is heading to the midbar(wilderness) in search of meaning and renewal. The wilderness challenges us, nourishes us, and brings us into deeper connection with our neshama (soul). This summer, we invite teens to experience the California midbar, Wilderness Torah style — learning ancestral skills, building friendships, and connecting with Jewish ritual in the outdoors.
Each teen will have the opportunity to go on their own quest — a solo journey guided by experienced adult mentors. Sharing their stories with each other and the mentors, teens may glimpse the neshama that guides their path.
This 5-day journey will take place from July 29 to August 2, 2019, with pre- and post-trip evening gatherings (dates TBD). Transportation to the Sierra Nevada mountain range will be provided, as well as food and group camping gear. The trip begins and ends in the East Bay. Diversity and inclusivity are foundational values at Wilderness Torah — teens of all backgrounds are encouraged to join.
Day 1:
Load up into cars and drive to base camp in the mountains. Cook dinner over a fire and acclimate to the higher elevation. Get to know the amazing group of teens and mentors.  
Day 2: Pack up camp, prepare backpacks, and hike out to our midbar camp. Take in the beautiful views of the high mountains and pristine wilderness. Begin to drop into our intentions for the neshama quest.
Day 3: Cross the threshold into the solo experience. Some teens might be going out for the day while others stay out all night as part of their quest. Each teen can design the quest that best suits their intention.
Day 4: Return to our midbar camp, welcomed by nourishing relationships and a warm meal. Council shares help illuminate the neshama in your journey.
Day 5: Hike back to base camp and load into the cars. Make it home in time for dinner with our families!
Dates of Neshama Quest: July 29 – August 2, 2019
Cost:
Early Bird $250 available through May 31
Standard $350 until July 1
Registration closes July 1.
Participants will receive more information about location, packing list, pre- and post- trip gatherings, etc. after registration.
Payment Required with Registration
Your registration is not complete until you have paid, ensuring your teen a spot on the trip. Unpaid registrations will be canceled after 48 hours.
Refunds
Registration is nonrefundable. See our cancellation policy.

Neshama Quest is made possible thanks to The Jewish Teen Education and Engagement Initiative (Teen Initiative), a project of the Federation, in partnership with Jewish Federation and The Jewish Community Foundation of the East Bay, and with support from the Jim Joseph Foundation.
Shomrim Spring Gatherings & Camping Trip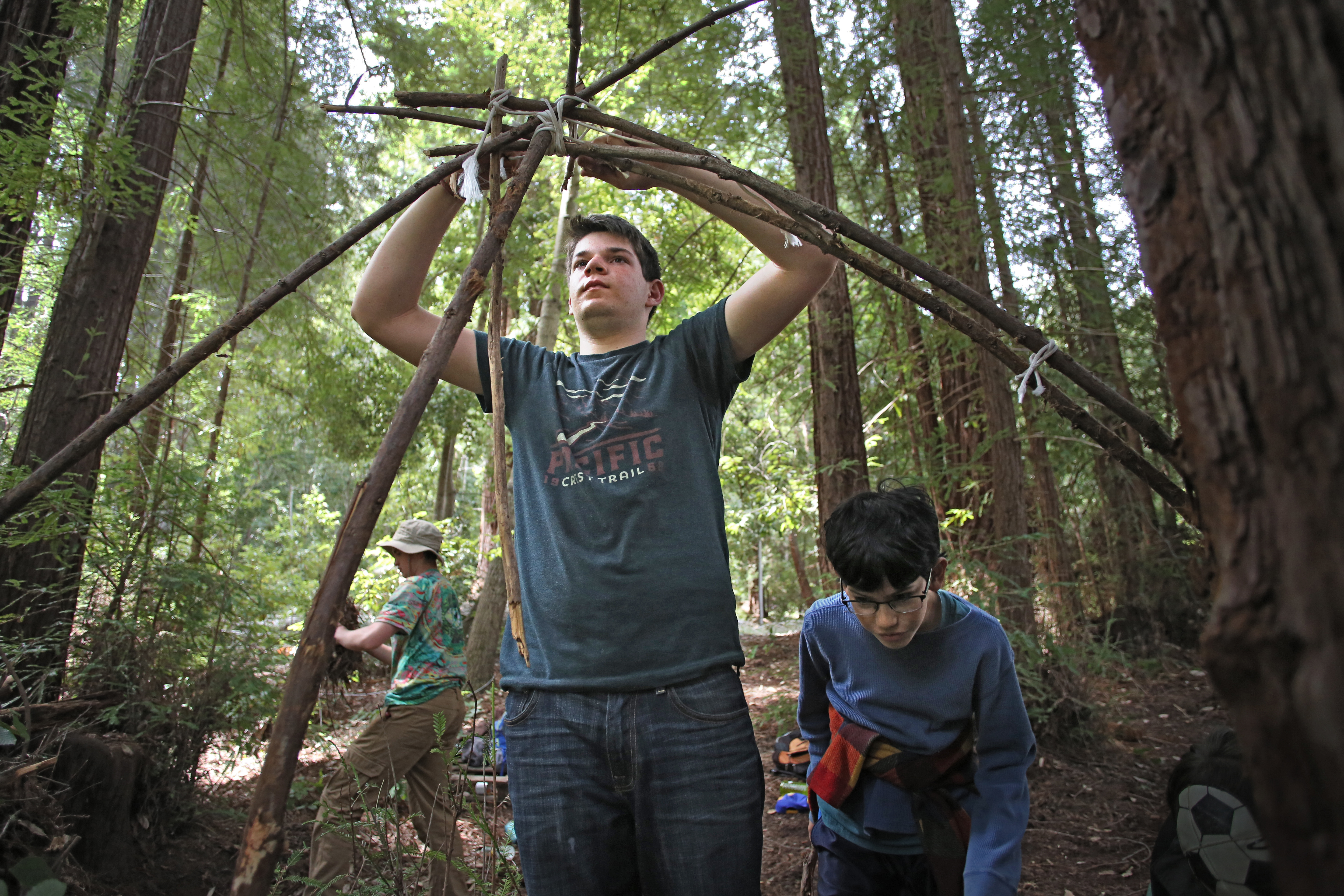 Registration opening in February 2020
B'naiture graduates are invited as Shomrim on our B'naiture spring rite-of-passage camping trip.
Responsibilities:
Attend pre-camping trip Shomrim Gatherings. The Shomrim Gatherings prepare teens to be in service and create a sense of connection before arriving at the camping trips. Detail for Spring 2020 gatherings will be announced in February, 2020.
When you come to the B'naiture Spring Camping Trip as a Shomer/et teen, you are in an honored role of someone who has completed the program and is returning as a role model. Your participation is important in building the community basket that holds the kids through their rite of passage. We will have some programming geared toward Shomrim and will also call upon the Shomrim to assist the mentors throughout the weekend.
From helping out in the kitchen and with site prep and cleanup to supporting the nesharim (eagles/second years) before their fires and the tzvi'im (first years/deer) on their challenge, Shomrim get a taste of what it takes to make the B'naiture magic happen, and get their head, heart, and hands in on the action..
B'hootz Teen Apprentice Mentor
Our teen Shomrim are invited to begin their journeys as mentors through an apprenticeship with our B'hootz program. Each apprentice is paired with an experienced adult mentor and helps lead a group of kids in grades K–5
This marks an exciting transition and involves a significant time commitment spanning the school year. Teen apprentices attend staff trainings, a special teen meetings weekend, and two trainings throughout the year, in addition to each day of B'hootz.
As an apprentice mentor for B'hootz, you may build upon the skills and knowledge you gained in B'naiture. This happens through mentorship from the B'hootz staff and Youth Programs Manager, and experience serving as a mentor to B'hootz kids.
Interested teens are asked to complete a short application and come in for an interview, as spaces are limited. Applications will open soon for the 2019–2020 season. If you are interested in future opportunities, pleasecontact us.
This marks a transition. In B'naiture, you participated in the program designed by your mentors. In this role, you will be called upon as a mentor yourself.
This involves five main things:
Being a positive role model with good conduct
Looking out for the safety of the children
Being helpful to the lead mentors
Observing how the program is run and asking questions as they arise
Arriving on time for all program days and communicating with mentors as needed
Working for B'hootz is a lot of fun and it is also a new responsibility. Please consider why you wish to join the B'hootz team, what special gifts you will bring to it, and what challenges you might face.
You guys are maintaining channels of authentic living for my children. In the face of the social media onslaught, I often feel powerless to help my children connect to life in the real world. B'Naiture planted some important seeds, but without Shomrim tending the garden, I fear the lessons they learned would dry up from tumblr and snapchat. Thanks for keeping the garden growing – they trust you guys so much!