Frequently Asked Questions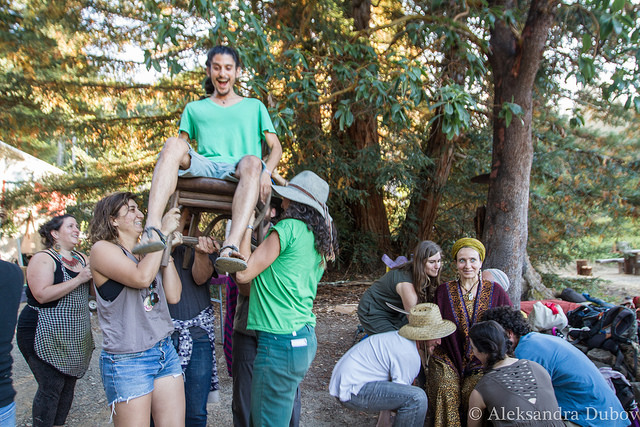 Religious Practice, Halacha (Jewish Law), & Pluralism
A: Wilderness Torah creates a pluralistic community platform where participants of the range of religious observance can participate. We support the observance of Jewish law, such as Shabbat and Kashrut (Jewish dietary laws), and support our diverse community with options for religious observance. All programming is optional and we hope you'll experiment, as our prayer options can be very creative and powerful. We aim to support the diversity of individual religious practice. While some will choose to use flashlights and cameras on Shabbat, others will choose to refrain according to their Shabbat practice. We invite you to come with an open mind, a willing heart, and the permission to openly share your needs. We ask all participants to respect differing observance levels and get curious about differences you perceive.Go ahead, ask! Building pluralistic community poses challenges that can become profound learning opportunities.
A:
Yes. Wilderness Torah maintains a kosher, pesca-vegetarian kitchen. In making its food choices, Wilderness Torah prepares food according to the highest ethical standards, including kosher, local, organic, seasonal, humane, and socially just. Wilderness Torah prioritizes sourcing fresh, unprocessed foods, and when choosing processed or packaged foods, aims to purchase certified kosher foods.
Wilderness Torah may at times prioritize certain values, such as local or organic, over kosher-certified. When such a choice is warranted, we will share such decisions openly with signage and provide a kosher option. For example, we purchased local, homemade, organic bagels for Shavuot that were not kosher. We had kosher bread choices available. When we were gifted raw, local, organic honey, we served it alongside kosher honey with clear, both clearly labeled. Please ask if you want more details on how we prepare and maintain kashrut in our wilderness kitchen.
A:
Due to the rustic nature of living outside, we make certain
halachic
(Jewish legal) exceptions for the health, safety, and comfort of the community. For example, the kitchen prepares hot water during Shabbat for people to have warm drinks if they choose and to ensure that hot dishwater is available to maintain proper sanitation in the kitchen. We also provide hot water that was heated before Shabbat for those who observe. We use a small refrigeration generator to keep food cold and fresh, which we turn off at night when it's cool to save energy and provide quiet in camp. We restart this generator Shabbat morning as necessary to protect the village's food. At times, we will choose to use amplification during some communal gatherings on Shabbat so ensure that everyone can hear.
We have contemplated building a fire if it becomes very cold in order to protect the comfort and health of participants, based on the principle of pekuach nefesh (exception for saving lives). We often wonder, how did our ancestors celebrate Shabbat when they were nomadic desert people? If this interests you, please come and speak to us about your ideas!